Key Lock skirt (more options)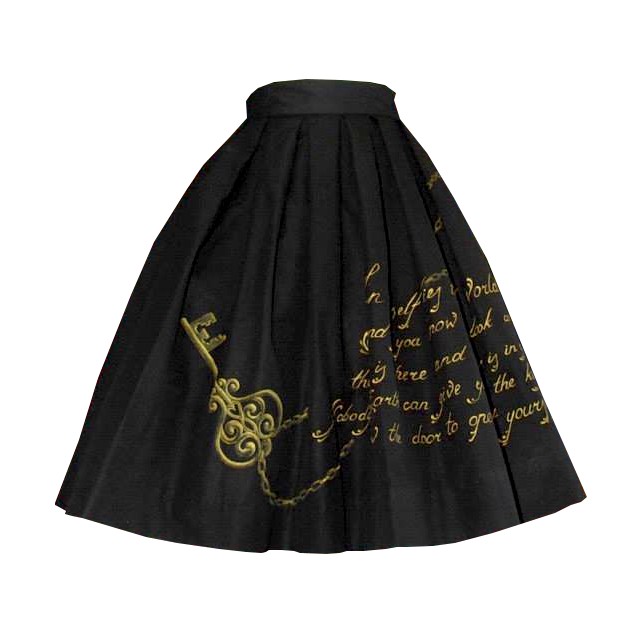 Key Lock skirt (more options)
Jsk dress with hand-painted calligraphy script and illustration
Elegant box pleated skirt with a gorgeous print with an inspirational quote and illustrative elements. I hand paint all of the print, so I make each skirt slightly different in details, so to make it more special.
Skirt had back shirring for added comfort. Side zipper, hook and eye closure.

Available in classic print with the quote (usually accommodated with a key, lock, filigree illustration, but can exclude any of these and have other elements - you can contact me if you have a special element in mind or one you do not wish to see):
"In oneself lies the whole World and if you know how to look and learn, the door is there and the key is in your hand.
Nobody of Earth can give you either the key or show the door to open except yourself."

And gothic print with the quote (illustrative elements usually include a framed skull, roses and filigree/banner motives):
"The boundaries which divide Life from Death are at best shadowy and vague.
Who shall say where the one ends, and where the other begins?"
♥ MEASUREMENTS ♥
♥ add your waist measurement in the comments box at checkout.
♥ Short skirt length ~57 cm (22.4 inches) (full dress ~100 cm (39.3 inches))
♥ Long skirt length ~67 (26.4 inches) (full dress ~ 110 cm (43.3 inches))
NOTES:
- Gentle hand-wash only as the print is delicate. Drip dry only.
- Ironing on "polyester" settings from the wrong side, through a scarp cloth or parchment paper (I suggest ironing before the very first wash, too)
- The print is hand painted on, so it may vary in scale and details (see pictures or ask for additional ones).
- Some glitter fallout is normal in first couple of washes.
- Some chalk marks may be present - they will wash out after very first wash.
- petticoat not included